Jay & Oak Solutions, LLC Bookkeeping Services Agreement
Last Updated: 08-25-2021
You may contact us concerning this agreement at the
following e-mail address: jonathan@jayandoak.com
Jay & Oak Solutions, LLC.
Jay & Oak Solutions LLC is delighted that you have decided to engage us to provide your business with our bookkeeping services! In order to move forward with this professional relationship, it is necessary to confirm in writing what scope of services we will be providing your business and what our respective duties and responsibilities are and set forth all agreed upon terms of engagement.
In particular, our ability to provide you with high-quality services relies on your active engagement as outlined in Client Responsibilities below.
Upon acceptance of the terms set forth below, they will serve as our written agreement. References to Jay & Oak Solutions, LLC may also be referred to as "we" or "us" below. If you have any questions regarding the following, please let us know.
Services to be Provided
Services provided to you by us shall include any or all of the services enumerated on the invoice provided to you and incorporated in this Agreement by reference.
Rescheduling/Cancellation
Both parties agree to let each other know as soon as possible if a meeting needs to be rescheduled. Cancellations within 24 hours of the scheduled meeting will be billed for one hour of time at the rate of $60 an hour, unless due to illness or family emergency.
Expenses
You will reimburse us for reasonable out of pocket expenses incurred in rendering services under this agreement. Unless otherwise agreed, we are responsible for bearing the cost of our expenses.
Payment Terms
Our fees and costs will be billed for the rate indicated in the first invoice, with an upfront payment payable upon receipt of the invoice. Services will commence upon receipt of the first payment and, depending on your agreed upon terms of payment for the scope of services to be rendered, authorization of monthly payments. Upon paying for these services, the terms listed in this Agreement will govern your representation. Payments can be made by check, credit card, or Paypal. Payments made by Paypal or credit card are subject to a payment processing fee to be paid by you. With the exception of signing deposits, invoices will be due 30 days following the date the invoice was sent. Invoices not paid within 5 business days of the due date indicated on the invoice will be subject to a late payment penalty of $30.
Chargeback
If, at any time, we record a decline, chargeback or other rejection of a charge of any due and payable on your account ("Chargeback"), this will be considered a breach of your payment obligations under this Agreement, and your use of our services may be disabled or terminated and will not resume until your submit the amount due in full, including any fees and expenses incurred by us and/or any Third Party Service for each Chargeback received (including handling and processing charges and fees incurred by the payment processor), without detracting from any other remedy that may be applicable to us under these Terms or applicable law.
Insurance
We carry insurance policies under professional liability and cybersecurity in order to protect our client's finance and provide further peace of mind. We will supply you with a declaration page upon request.
Background and Credit Checks
If we assign persons (whether employees, independent contractors, subcontractors or agents) to perform work under this agreement that requires that the person have access to your financial information and systems, you have the right, but not the obligation, to conduct a background check as permitted by law, on all such persons before we grant them access to the information or systems. We will cooperate with you in performing the background check, and will promptly notify you of any such person refusing to undergo a background check, and will reassign them to perform other services. We will obtain all releases, waivers, or permissions required for the release of the information to you. You are responsible for the costs incident to background checks.
Our Role as Your Bookkeeping Professionals.
As trained bookkeeping professionals, our primary job is to keep accurate records in the accounting system, and provide you with guidance about your finances and financial processes with your business' best interests in mind. That said, we are not certified public accountants and we are not engaged in the practice of law, public accounting nor providing financial audit or advising services. We will not prepare your tax statements, audit or review your financial statements, or any other bookkeeping documents and information you provide, nor provide you with official legal advice. We will presume and rely on the accuracy of all information and documents you provide to us are true and accurate and you have verified them internally. We cannot represent you before the Internal Revenue Service.
Nature and Limits of Guidance
Our guidance is advisory in nature only. We are not privy to the full details of your business operations, nor are we in a position to make any decisions related to your business. Therefore, you warrant that you accept full responsibility for the business, legal or other decisions you make in response to guidance we provide, and the results of such decisions. Although we will always provide guidance that we deem is in the best interest of your business, we cannot guarantee in any way that our guidance will lead to any specific outcomes.
Client's Responsibilities
Communication:

You are responsible for designating a contact person for our office to coordinate and communicate with. For timely and accurate service, it is important to respond to our inquiries within 2 business days.

Documentation:

You are responsible for maintaining all of your business documentation and records. Records you share with us should be copies of your originals.

Software Expense

:

You are responsible for the full cost of any third-party software used while providing these services, including but not limited to merchant services, accounting, receipt management, bill payment, file management, communication, inventory management, and other related software.

Account Maintenance and Access:

We will require access to accounts and financial documentation in order to fulfill its duties under this Agreement. We will inform you what information we need for the services we will be providing you. Any failure to provide such access, documents and information on a timely basis will impede our services and may require us to suspend our services or withdraw from the engagement. You agree to accept responsibility for any effect on your bookkeeping records and financial statements of basic financial information or transaction documents not submitted to us for processing and entry, or losses that may result from their absence.

The maintenance and the security of those accounts remain your responsibility.

Limited Role:

In order to ensure the safety of your business and ours, we require that any power to authorize transactions remains within your business. Wherever possible, access given to us should be read-only access to account information. If we provide payment services, we require the use of a third-party payment service which requires your authorization for us to be able to generate any payment.

Internal Controls & Detecting Fraud:

You are solely responsible for the implementation and maintenance of proper internal controls processes in your business. You are responsible for the design and implementation of programs and controls to prevent and detect fraud, and for informing us about all known or suspected fraud affecting the Company involving (a) management (b) employees who have significant roles in internal control, and (c) others where the fraud could have a material effect on the financial statements.
Confidentiality
We agree to treat all materials and other information relating to the services rendered under this agreement as confidential and shall not disclose any such materials and other information to any other person unless (1) you have approved disclosure, (2) such disclosure is or becomes publicly available information by you or a third party, or (2) such disclosure is compelled by law.
We function according to the Jay & Oak Solutions Privacy & Security Policy. By signing this letter, you agree to the terms of that policy.
Our Document Retention Policy
It is our policy to retain engagement documentation for a period of seven years, after which time we will commence the process of destroying the contents of our engagement files.
To the extent we accumulate any of your original records during the engagement, those documents will be returned to you promptly upon completion of the engagement, and you will provide us with a receipt for the return of such records.
The balance of our engagement file, other than the completed financial statements, which we will provide to you at the conclusion of the engagement, is our property, and we will provide copies of such documents at our discretion and if compensated for any time and costs associated with the effort.
In the event we are required to respond to a subpoena, court order or other legal process for the production of documents and/or testimony relative to information we obtained and/or prepared during the course of this engagement, you agree to compensate us at our standard hourly rates then existing for the time we expend in connection with such response, and to reimburse us for all of our out-of-pocket costs incurred in that regard.
Contractor Role
Jay & Oak Solutions LLC's is for all purposes an independent contractor and is not your employee. There is no intention by either party to create a joint venture, partnership or other relationship, which might impose a fiduciary obligation on us or you in the performance of this agreement. We agree and acknowledge that we are obligated to report as income all compensation received for services under this agreement and pay any and all necessary taxes.
Term and Termination
This agreement may be terminated by either party without cause if notice is received within 10 days.
The following occurrences will be considered termination for cause, and will be grounds for immediate termination if upon 5 days notice, the breaching party cannot or will not cure the potential breach:
Outstanding payment not rendered after invoiced within the payment terms indicated on the invoice;

Fraud, theft, misrepresentation, or other deceptive conduct;

Convicted by a crime;

Conduct by either party that reasonably could be expected to inure either party's reputation or public standing;

Repeated failure to reply to communications after repeated attempts;

Not providing necessary material or information in order to further or complete the services agreed to under this agreement.
Obligation Upon Termination
Invoices not under reasonable dispute are immediately due and payable to us. Any unused funds held in retainer, will be immediately returned to you.
Indemnification
In the event that we are or may be obligated to pay any cost, settlement, judgment, fine, penalty, or similar award or sanction as a result of a claim, investigation, or other proceeding instituted by any third party, and if such obligation is or may be a direct or indirect result of any inaccurate or incomplete information that you provide to us during the course of this engagement, you agree to indemnify us, defend us, and hold us harmless as against such obligation.
Notification of a Conflict of Interest
If it is discovered that we have an outstanding agreement or obligation that conflicts with any of the provisions of this Agreement, we will notify you before accepting payment. Further, we will not enter any agreements or obligations that would conflict with any of the provisions of this agreement or that would preclude us from complying with the terms of this agreement.
Dispute Resolution
The parties will attempt to promptly resolve any dispute or controversy arising out of or relating to the formation, performance or termination of this Agreement. If the parties are unable to negotiate and settle in good faith, a mediation shall ensue.
Any mediation initiated as a result of this engagement shall be administered within Multnomah County Oregon, by an agreed upon qualified third-party mediation organization, according to its mediation rules, and any ensuing litigation shall be conducted within said county, according to Oregon law.
The costs of any mediation proceeding shall be shared equally by the participating parties.
Assignment
This agreement may not be assigned by either party without prior written consent of the other party.
Governing Law
This agreement will be governed, construed and controlled by the laws of the State of Oregon. You further consent to the jurisdiction of the state and federal courts sitting in the State of Oregon.
Entirety
This agreement is the entire agreement of the parties and supersedes any prior agreements between them with respect to the subject matter of this agreement.
Waiver
Either party's failure to insist upon the strict performance of any of the duties or agreements in this agreement will not be deemed a waiver of any subsequent breach.
Electronic Signature
This Agreement may be digitally signed by you and you agree that any signature on this Agreement is the same as a handwritten signature for the purposes of validity, enforceability, and admissibility.
Thank you for your business and your trust in us. We look forward to working with you!
Sincerely with gratitude and appreciation,
Jonathan Strunin
Jay & Oak Solutions, an Oregon limited liability company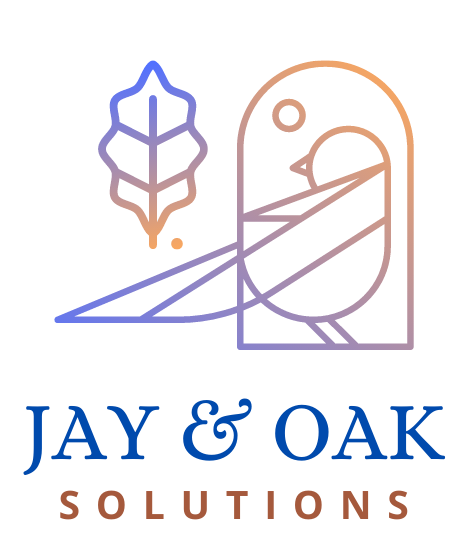 trusted allies on your business journey.
home • about us • bookkeeping & finance • website & design • project & training strategy •